Dentures and Bridges
Unfortunately sometimes teeth are lost leaving a gap. What is done with the gap depends on where it is in the mouth and the effect its loss will have on the patient's ability to chew, as well as the effect it has on the patient's smile.  Gaps are usually treated with either a denture or a bridge.
DENTURES
At Acorn Dental Practice dentures can be made by our dentists or by  Clinical Denture Technician, Richard Harrison www.bespokedentureclinic.co.uk. They are all highly experienced and use registered British laboratories, ensuring the use of high quality materials.
A denture can be placed on the same visit as a tooth is extracted, so the patient never has to have a gap. They can be used as a permanent solution or as a temporary measure as the socket heals after extraction of a tooth. Our dentists take the time to ensure the dentures are natural-looking and well-fitting, with each denture being custom made to meet a patient's needs.
BRIDGES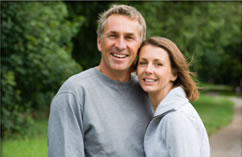 Bridges replace missing teeth by being attached permanently to one or more other teeth. Maxine , Hannah and Carlie are highly experienced in the provision of such bridges and are particularly interested in using techniques that give a great result without sacrificing the health of the patient's other teeth. Such techniques are less costly than other conventional techniques without causing any unnecessary structural damage.
Everstick Bridges
An amazing new technique can be used whereby the patient's own tooth can be extracted and bonded to the teeth either side using a special glass fibre strip called 'Everstick'. This process is completed at the same visit as the extraction so the patient comes into the surgery with their own tooth and leaves with it!
This is a technique that is ideal for patients who have had a fall and fractured the root of the tooth or where a single tooth has become loose and painful to chew on due to bone loss. It can be used just to fill the gap while the socket heals prior to a more permanent solution or can be used as a long term solution. It costs less than having a denture and has the very important psychological advantage that the patient still has their own tooth- with a little help from Everstick!
The same technique can be used to bond loose teeth to the teeth either side, holding them in place. We use this technique if a patient has knocked their tooth and loosened it or if the tooth has become loose due to gum disease. Such ' splinting' makes the teeth firm and able to be chewed on again.
Fixed Bridges
These bridges involve some preparation of one or more teeth at the side of the gap. They are made in either porcelain or porcelain fused to gold alloy. They look, and feel like natural teeth, as our technicians match the colour and shape of the replacement teeth to your own.