Acorn Dental Practice- The Covid Crisis
For the safety of our patients and staff we have sadly been instructed to cease all face to face contact with patients until we have been told it is safe to do so. This does Not mean we are not here to help you.
A group of practices are providing advice and antibiotics ,where appropriate, for each other's patients. If the problem is serious and cannot be treated with antibiotics the patients will be referred to a hub that will be manned by dentists that have all the necessary equipment to provide emergency treatment. We are awaiting news about where this hub will be and the arrangements for patients who need to access it.
The hours that will be covered are 9- 5 and 6-8 weekdays and 9-12 weekends and bank holidays. Please ring as early in these times as possible if you do need advice so we can arrange any treatment/ collection of antibiotics on the same day if at all possible.
The number you should call is
01904 783194
If you have a lost filling or broken a tooth ,that is not causing pain,many pharmacists stock temporary filling materials that you can place yourself.
For our plan patients, rest assured all the treatments that are included in your plans will be credited to your accounts so you will get full benefit of your plan once we return to face to face contact.
The staff are all safe, some are having to self isolate but others are hoping to form part of the army of volunteers to help the country through the crisis.
Keep brushing, flossing, tepee-ing and as few snacks between meals as possible.
Keep safe and Stay at home
The Acorn Dental Team
Acorn Dental Practice is a Team of committed and positive people who strive to bring high standard dental care to York and its surrounds. We work with our patients to improve and maintain their general and dental health, putting THEIR needs first. We help them to make the most of their smiles, not compromising on the time we spend with them, the materials and techniques we use or the cross infection procedures we carry out.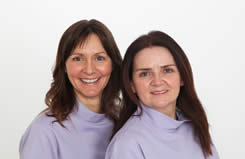 Dentists Maxine and Hannah bring a wealth of knowledge to the practice, each having a wide range of skills and experience. They carry out any treatments with the care, skill and detail that they want when they have treatment themselves. They have no targets to meet so they do not just treat patients, they treat them correctly. They often collaborate in difficult cases to ensure each patient has the best possible treatment tailored to their individual needs. They have particular skill in non-invasive techniques so patients can have great smiles without risking the health of their teeth. They work closely York District Hospital and with a number of local specialist practices in orthodontics ( braces), surgery and implants to ensure patients with complex needs receive the best care possible.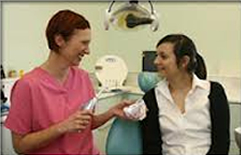 Our hygienist Kim provides a full range of treatment for gum disease, whether mild or advanced. She provides all patients with advice on cleaning their teeth properly as well as on their diet and the use of Fluoride to prevent tooth decay.
Our Dental Therapist Laura provides the same range of treatments as Kim plus a range of other treatments such as simple fillings and impressions.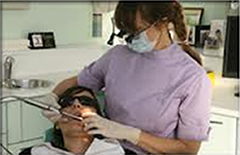 We extensively use modern equipment to help us in providing the best possible care, whilst our patient database enables us to easily communicate both on reception and in surgery. We use magnifying glasses to aid diagnosis, intra-oral cameras so we can show patients what their teeth look like and record them for future reference. Digital radiography enables us to give quick, accurate diagnosis of problems and to show patients what the problem is on the computer screen.