Meet the Team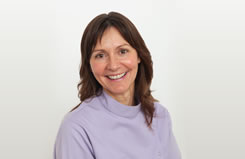 Maxine Flynn
GDC No 61149
Read about me
Born in South Yorkshire, Maxine qualified from the University of Newcastle upon Tyne in 1986.
She worked as an associate in Newcastle for a year before buying practices in Pontefract and Hessle. After 11 years she had a year in New Zealand before returning to buy what is now Acorn Dental Practice. Her aim is to give patients high quality care without gimmicks. She feels patients are too often treated as mouths not people and she strives to ensure the patients at Acorn Dental do not feel that way. She loves all aspects of dentistry but especially enjoys treating anxious patients with neglected mouths and bringing them back to health. She loves seeing their confidence grow as they get their smile back.
Maxine is married with two daughters.Her interests are horse riding, diving, walking and historic places
Hannah George
GDC No 62260
Read about me
Hannah is Irish. She qualified in Cork in 1987 and has worked in Britain since then. She has worked in the York area for many years, moving to Acorn Dental Practice in 2003. She enjoys all aspects of dentistry, especially cosmetic work. Hannah is married with two sons in local schools and lives in a village outside York. She enjoys watching rugby, walking, running, hill climbing and going to the theatre.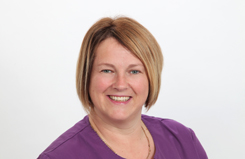 Reception Staff
Read about me
Yvette, Jan and Caroline are Acorn's reception team. As well as running the appointment system they help patients feel comfortable, explain the options for treatments and plans the dentists may have prescribed. Any concerns patients might have are dealt with in total confidentiality.
Our Quality Care Commission inspector made particular reference to how excellently the reception staff dealt with patients.
Nursing Staff
Read about me
Our nursing staff are lead by Amy Johnson. Working along side her are Emily Franks, who has just successfully completed her professional qualifications, and the newest members of our team are Alex De Carvalho & Alisha Ellis who have started their dental nursing careers. They form a tight knit group, caring for the patients before, during and after their visit as well as carrying out the cross infection control procedures that keep our patients safe.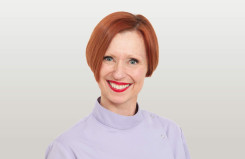 Kim Lawrence
GDC No 3181
Read about me
Originally from the Southwest, Kim has lived and worked in York since 1986. She served in HM Forces for 6 years, qualifying as a dental hygienist at the RADC HQ in Aldershot in June 1986. She now lives in the Acomb area where her daughter attends a local school. She is a keen runner and enjoys most water sports.
Sally Perkins
GDC No 250782
Read about me
Sally qualified in May 2014 from the University of Liverpool. Since then she has worked in Ripon and Richmond in NHS dental practices. Sally has recently gained a Diploma of Membership of the Faculty of Dental Surgery and is therefore a member of The Royal College of Surgeons of Edinburgh.She enjoys all aspects of dentistry and is very keen on a whole team approach to preventative dentistry. Outside of work Sally has a love of classical music and plays the cello and piano. She also enjoys spending time with friends and family.